Meet our June Employee of the Month #1: Lukasz Burnos
Today we introduce you to one of our TWO Employees of the Month for June. Meet Lukasz Burnos, our aluminium fabricator! Lukasz has been working in aluminium fabrication for 13 years and he joined Tradeglaze 7 years ago. His responsibility is to produce bespoke bifolding doors, windows and curtain walling from our clients' designs. Lukasz graduated with a qualification in joinery and has worked in manufacturing ever since. Working with aluminium requires a unique level of accuracy and precision and Lukasz thoroughly enjoys the challenge of working with this fine material.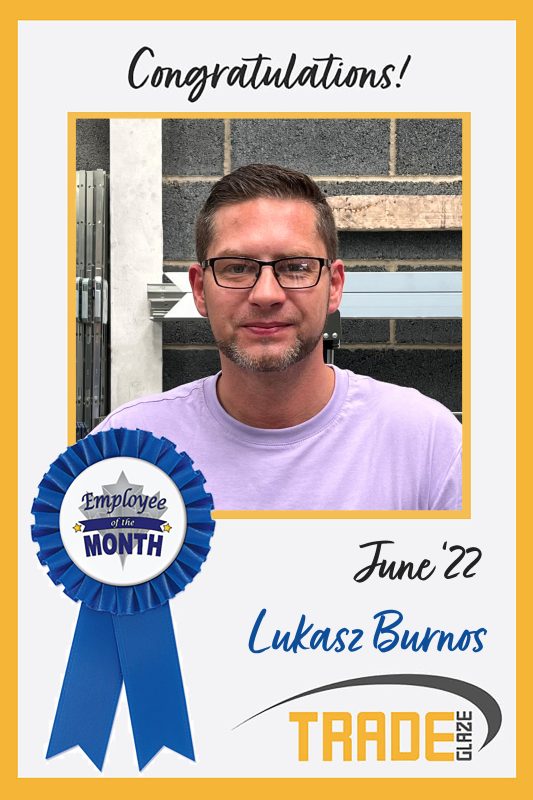 We have asked Lukasz what he most enjoys about working for Tradeglaze and here is what he has told us: "I love working with aluminium, it's exciting to be part of the projects we do. Some of them are really quite grand designs and it makes me proud when I walk around Lincoln and see the installations I have helped to fabricate. I get to work with new shapes and different styles which makes every day different."
"We have a good team here at Tradeglaze and help each other as much as we can. A lot of the time we are working on complex projects so teamwork is really important."
With 13 years in aluminium fabrication you must have seen a lot of changes? "Definitely. The quality of aluminium systems has improved dramatically. Profiles are much lighter, more durable and far more flexible for design. And I remember when we did single glazing! Things have gone a very long way since then."
What advice would you give to anyone who is interested in a career in the glazing industry? "Fabricating aluminium requires very fine skills and solid knowledge of the product. There isn't room for error. That comes with some pressure but also a lot of satisfaction when you see your product finished and installed on a customer's property. Aluminium windows, bifolds and curtain walling are beautiful and can really transform someone's home or a client's commercial building. You are making a big difference and can take a lot of pride in your work. I have also been a mentor to my cousin who works for Tradeglaze, too. He is very good at what he does and I'm proud of him. I'm really pleased that we both work in the fenestration industry."
What do you enjoy doing in your free time? "I like exploring Britain, especially old cities with cathedrals like York, Manchester or London. I also enjoy going to the movies. Top Gun Maverick and Elvis are some of my latest favourites!"
Lukasz's manager, Daniel Dickson, aluminium manager at Tradeglaze, has said: "Lukasz is one of our most experienced fabricators who can put his hand to any job, no matter how complex. He can always be relied upon to step forward and offer advice and solutions to technical problems. He is always willing to put in the hours to get the job done and to keep us on target. All of these attributes make Lukasz an indispensable member of the team."
Congratulations, Lukasz! Well deserved, you are a hard-working colleague and a great team player. We are very lucky to have your skills and positive attitude here at Tradeglaze.
Don't forget to check in next week when we introduce to you our SECOND Employee of the Month for June, Adrian…!
To read more about Tradeglaze why not visit www.tradeglaze.co.uk and get in touch with the details of your next trade or commercial project.