Tradeglaze and Chanceoption Homes begin collaboration on a new 190-homes development in Ruskington, Sleaford
A Lincolnshire property developer Chanceoption Homes and Tradeglaze [Jackson Windows by Tradeglaze] are proud to announce their collaboration on a new Flaxwell Fields site off Lincoln Road in Ruskington, Sleaford. Work has now commenced on this 190-homes development, 20% of which will be homes classed as affordable. The new site will be delivered in 5 stages and will play an important role in supporting the demand for additional housing in the area.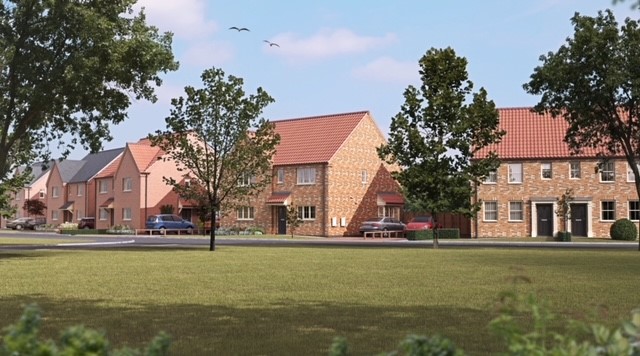 The plans are estimated to create economic benefits including an extra £4 million spending power to the area. Homes will include many of Chanceoption most popular home styles, all finished to high specification, bespoke to customers choices. These will include energy efficient windows, doors and bi folding doors from Jackson Windows by Tradeglaze, manufactured locally in the company's Lincoln based 12 000 sq ft factory.
Employing a locally based contractor and driving a stronger economy for the county of Lincolnshire has always been important to Chanceoption Homes.
Nick Allen, the Director of Chanceoption Homes said: "We are seeing huge demand for homes in more rural areas and our new Flaxwell Fields development provides the best of both worlds. It's only a short distance from the historic city of Lincoln but also set in the stunning Lincolnshire countryside. We are delighted that we will be providing high quality new homes to the area."
"We have chosen to work with Jackson Windows by Tradeglaze because they manufacture locally, and we want to support local employment and economic growth in our area. Also, the standard of their work is incredible. Our customers are always impressed with the quality of the doors and windows along with the bi folding doors that are a great selling point for us."
Brian Pearson, Trade Manager at J Jackson Windows by Tradeglaze added: "We have been supplying quality windows and doors to Chanceoption Homes for more than a decade and have completed work on several new development sites in the area since then. Chanceoption properties are always finished to a very high specification. Our market-leading windows and doors and, in particular, our modern slim sightline aluminium bi folding doors are the perfect addition to these beautiful homes. We are really proud that we can collaborate with Chanceoption Homes on this project that will deliver much-needed additional housing in the area."
The first homes will be available late summer and all enquiries are to be made to Winkworths Sleaford 01529 303377.
For further information on Chanceoption Homes Ltd visit https://www.facebook.com/chanceoptionhomes/.
For further information on Jackson Windows by Tradeglaze visit https://www.jacksonwindows.co.uk/trade/.