Meet our December Employee of the Month: Garry Compton
Happy Monday, everyone! It's #MeetTheTeamMonday again and we are thrilled to introduce our December Employee of the Month, Garry Compton!
Garry is a welding machine operator in our PVCu manufacturing team. He currently operates the Wegoma WSA-4-UNI PVCu welding machine which we recently added to our range of equipment. Garry has been part of our team for 12 years and he has spent an incredible 35 years in the industry. His knowledge of window manufacturing is remarkable, there isn't much Garry doesn't know about manufacturing PVCu windows!
We asked Garry what he likes most about working for Tradeglaze and here is what he told us: "I like the camaraderie here, we have a great team and it's nice to come to work where you get positive comments and compliments about your work every day. We have a great team – we use our initiative and help each other where we can and never forget to have fun, too. I'm the comedy king here! Also, I like my days busy and flowing well which they definitely do here at Tradeglaze."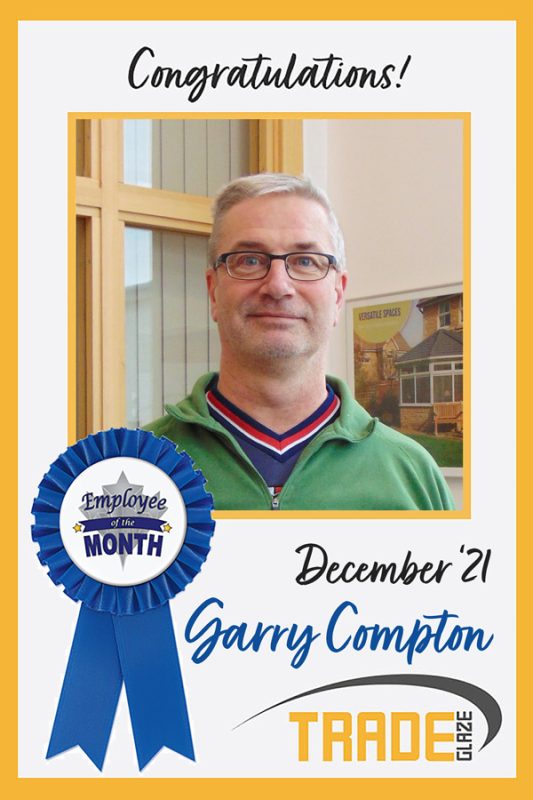 Garry's manager, Kenny King, production manager here at Tradeglaze, has said: "Garry is hard working, helpful and conscientious. He is willing to put himself out at the drop of a hat to accommodate any machine problems, even to the point of trying to repair them whilst following an engineer's advice over the phone. Garry is held in high regards by his fellow workmates because of his knowledge, and willingness to be part of the team. He is an asset to the company."
In his spare time, Garry is a keen Lincoln City Football Club supporter! He also enjoys fishing, plays pool and likes hiking. He completes fundraising walks, most recently for The Cinnamon Trust, the national charity for the elderly, the terminally ill and their pets.
Looking forward, Garry says that his aim in 2022 is to take good care of himself and his physical and mental wellbeing. That is a terrific goal and Tradeglaze will continue supporting him and everyone across our #TradeglazeFamily to make sure we all feel as healthy and happy as possible.
Congratulations to Garry on earning the Employee of the Month! You are a brilliant colleague and an inspiration to everyone around you. We are for sure very lucky to have you as part of our team here at Tradeglaze.
To read more about Tradeglaze why not visit http://www.tradeglaze.co.uk and get in touch with the details of your next home improvement or commercial project.