Meet our January Employee of the Month: April Sutton
Happy Monday, everyone! It's #MeetTheTeamMonday again and today we are delighted to introduce to you our January Employee of the Month, April Sutton!
April is a key member of our Jackson Windows trade team where she is responsible for coordinating trade orders for customers who purchase our products via Buildbase. Our trade customers often develop multiple plots at the same time, working with multiple contractors. April's role is vital for us to ensure our customers' orders have all the necessary technical details and can be processed smoothly so our customers can focus on what they do best, which is to build beautiful properties!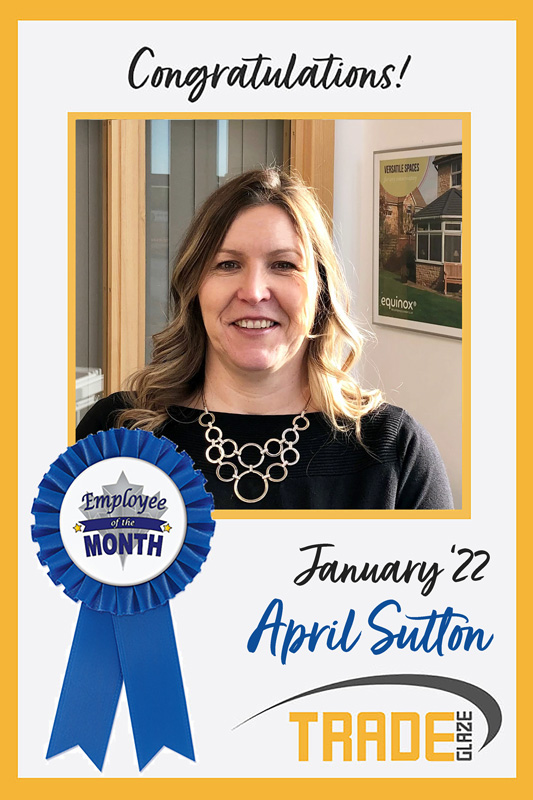 April joined Tradeglaze seven years ago but has been in the industry over 25 years, having previously worked for Jacksons merchants stores who later became Buildbase. With such incredible industry experience, April has wealth of technical knowledge to support the most complex of contracts. Together with her always positive, can-do attitude, she makes a great team player and a dream employee.
April's manager, Brian Pearson, senior accounts manager at Jackson Windows/Tradeglaze, has said: "When under pressure it is nice to know that you have great team players who help out no matter what task you give them. Not even a murmur of complaint, who just get on with task at hand. April is a great colleague who is always willing to help and goes that extra mile with a smile on her face no matter how difficult day it's been. She is highly thought of among the team and rightly deserves this wonderful accolade!"
We asked April what she likes most about working at Tradeglaze and here is what she told us: "I love the team, it's a friendly atmosphere and we all work well together. It's important that we specify every detail of every project correctly so communication is crucial. We have a great team and enjoy fun and banter, too!"
In her free time April enjoys exploring her family's ancestry, walking in the nature and most of all spending time with her three daughters!
Congratulations to April on earning the Employee of the Month! You are a super colleague and we are very lucky to have you as part of our team here at Tradeglaze.
To read more about Tradeglaze why not visit www.tradeglaze.co.uk and get in touch with the details of your next home improvement or commercial project.