Meet our June Employee of the Month: Sam Corner
Contact us Today
Contact our team in Lincoln today to discuss our trade supply services.
CONTACT US
---
Happy Monday, everyone! We are back with #MeetTheTeamMonday. Today we are delighted to introduce you to our June Employee of the Month, Sam Corner.
Sam is the Sales Coordinator for our Jackson Windows retail team and as such he plays a vital role in helping our retail customers achieve their home improvement dreams. From assisting with our customers' initial enquiry, scheduling a consultation with our experienced sales representatives, to supporting our customers and our sales team along the way, Sam is always on hand to help.
Although Sam only joined us at the start of 2021, everyone at Tradeglaze feels like he has always been part of our Jackson Windows team. He is an admirable team player and nothing is ever too much trouble for him.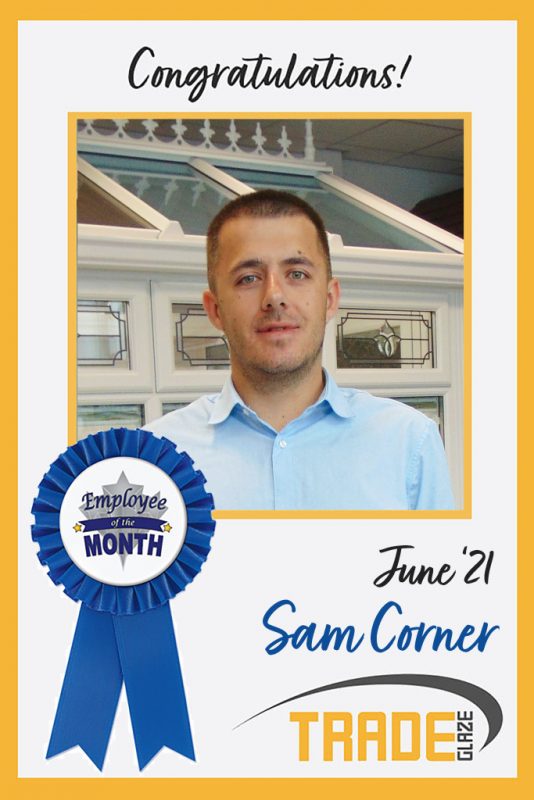 We asked Sam what he likes most about working for Tradeglaze and here is what he told us: "When I was offered the opportunity to join the Jackson Windows team after meeting with Jeremy and Renell, I didn't hesitate at all. I could tell immediately how dedicated they are to providing their customers with the best product and service. "
"They also value their staff like family. Having joined only 6 months ago, I have already learnt so much about the industry and I'm excited to keep learning. We are a small but incredibly close team and all of us work really well together which is the environment I thrive in. It means a lot to win the Employee of the Month Award and I will continue to work hard for Jeremy and Renell to repay the faith they have shown in me so far."
"Outside of work, I'm usually playing football, watching football or talking about football! I have a very close group of family and friends so it's great to have that same kind of relationships at work. I couldn't be happier to have joined Tradeglaze."
Well done on your Employee of the Month award, Sam! In the relatively short time you have been with us you have proven to be an excellent team player and a go-to colleague for not only our retail team but many others. We are very lucky to have you as part of our team here at Tradeglaze. Thank you!
Sam loves helping our retail customers so if you need assistance with home improvement ideas or have questions about our products, don't hesitate to call him on 01522 541294!