Meet our May Employee of the Month: Ashley Salt
Contact us Today
Contact our team in Lincoln today to discuss our trade supply services.
CONTACT US
---
Happy Monday, everyone! We are back with #MeetTheTeamMonday and today we are thrilled to introduce you to our first ever Employee of the Month, Ashley Salt!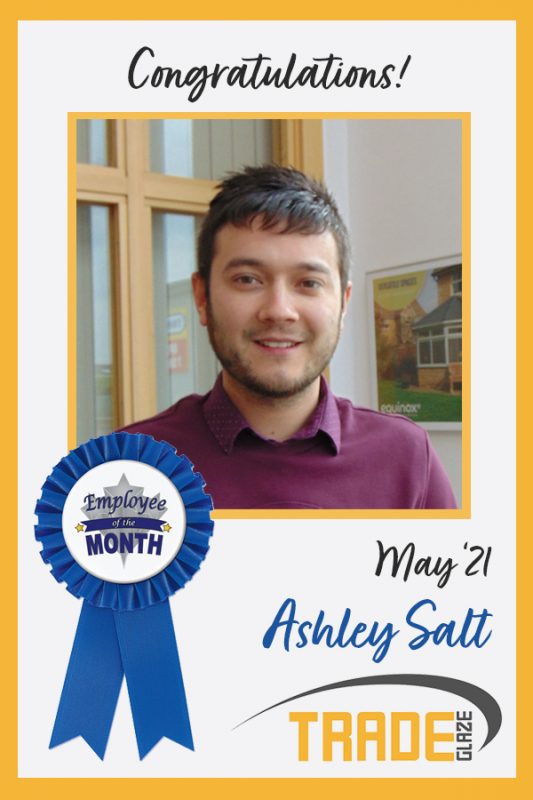 'Ash' is our Trade Sales Administrator and a key member of our support team, responsible for coordinating our trade orders. He liaises with our sales reps and customers, arranges transport and resolves all issues ensuring that all orders are processed smoothly and our customers are kept in the loop at all times so they can keep their own projects on track.
Ash has been instrumental in the success of the recent growth in our Supply Only business and – as if all this isn't enough! – he has also stepped in on numerous occasions to coordinate glass production at our Allenby Glass factory.
In his spare time Ash enjoys eating out (thank goodness that restaurants and pubs have now re-opened!) and he is also an avid car mechanic. He also enjoys football and supports the best football team that there is – Lincoln City Imps!
We asked Ash what he likes most about working for Tradeglaze and here is what he told us: "Every day is different at Tradeglaze. I love coming to work knowing that I'll have to act on my feet and learn new things. The camaraderie here is also superb, we have a great team and everyone takes a lot of pride in their work."
Ash always has a smile on his face and takes every challenge in his stride. He regularly goes way and beyond his responsibilities to help and support the business and his colleagues. This week also marks three years since Ash joined the business, so we have two reasons to celebrate. In fact, there are three reasons. Ash proposed to his partner last week, she said yes and so they are now engaged to marry! Congratulations, congratulations and congratulations!
Well done on your Employee of the Month award, Ash. You are a great team player and an absolute pleasure to work with. We feel very lucky to have you as part of our team here at Tradeglaze.
To read more about Tradeglaze why not visit http://www.tradeglaze.co.uk and get in touch with the details of your next home improvement or commercial project!