Meet our November Employee of the Month: Nicky Wyles
Happy Monday, everyone! We are back with #MeetTheTeamMonday. Today we are delighted to introduce you to our November Employee of the Month, Nicky Wyles!
Every company needs a Nicky! Nicky is our Trade Sales Representative, working with trade customers – installers, builders as well as commercial clients who need help with double glazing to renovate their premises such as schools or shops. Nicky is the ultimate team player, always ready to step in to help others, with a positive attitude and a big smile on his face.
Nicky joined Tradeglaze in 2020 but he has been in the construction industry for 17 years! He joined a local builders merchant straight from school and progressed through the ranks over the years. Last year he decided that he wanted to build on his product knowledge and specialise in double glazing which is when he joined our #TradeglazeFamily.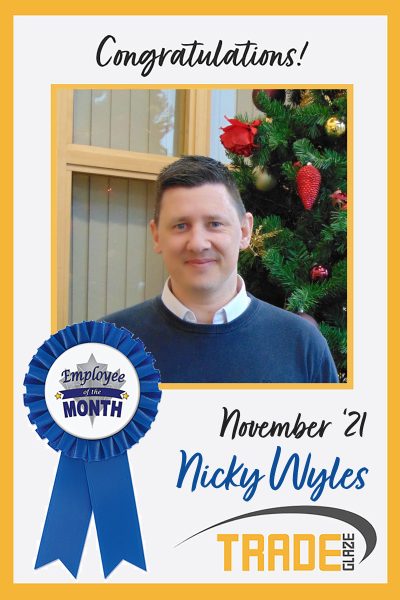 We asked Nicky what he likes most about working for Tradeglaze and here is what he told us: "We have a great team here, there is always a lot of banter every day but we help out each other where we can. What I enjoy most about my role is helping our customers find the perfect product for their job. Every project is unique and here at Tradeglaze we have the advantage that we manufacture products ourselves which means a lot of flexibility to create exactly the windows, doors, conservatory or curtain walling that my customer needs. Nothing is off the shelf, every product is made bespoke, by my skilled colleagues in our PVCu and aluminium factories."
In his spare time, Nicky enjoys spending time with his family, hiking in the countryside and he also loves fishing!
Well done on your Employee of the Month award, Nicky. You are a fantastic team player and we are incredibly lucky to have you on our team.
Nicky loves helping our trade customers so if you need assistance with your next project or simply have a question about the products we offer, why not pick up the phone and call him on 01522 539578! You can also visit our website www.tradeglaze.co.uk and submit your enquiry online.