Meet our May Employee of the Month: James Wetherall
It's #MeetTheTeamMonday again and today we introduce to you our May Employee of the Month, James Wetherall!
James joined our trade sales team nine months ago, having worked each summer at Tradeglaze for the past five years. Last year James graduated from Nottingham University with a degree in Accounting and joined the business in a full time role as Trade Sales Representative.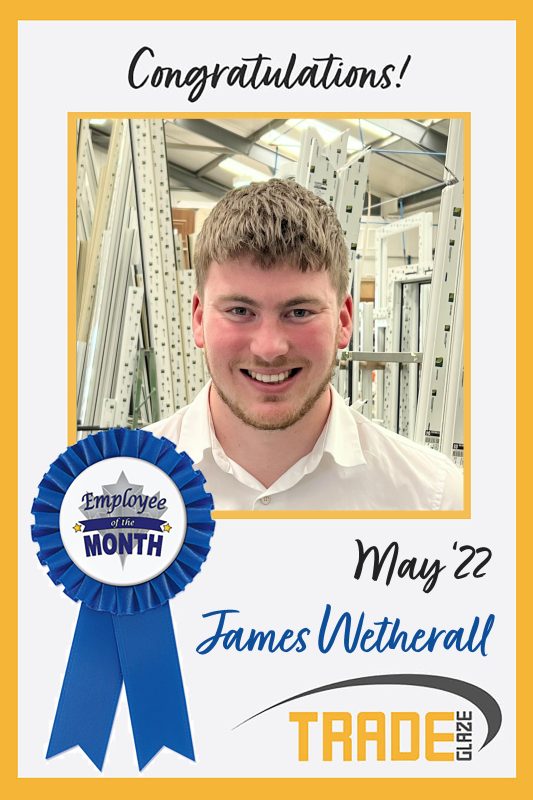 Over the years James has gained experience across many departments, from accounts to manufacturing in the uPVC factory as well as the glass shop. He then eventually joined our trade sales department under the leadership of Jonathan Brewer, the 2022 Lincolnshire Business Excellence 'Rising Star of the Year' award winner and one of the industry's '30 under 30' professionals for 2022.
We have caught up with James to ask about his role and what we enjoys most about it and here is what he has told us: "I love learning and I love helping people so I really enjoy every day in my role. We offer award-winning products here at Tradeglaze and I enjoy explaining the techanical details to our customers. A lot of them are surprised just how much has double glazing evolved in the recent years and what's possible with new glazing technology. It's really rewarding finding solutions and helping our customers turn their dreams into reality."
"We have a great team, everyone is supportive and willing to help. I have come to this role with little technical knowledge but I feel I have learned an extraordinary amount over the recent months and feel confident about my product knowledge."
What advice would you give to anyone who is interested in a career in the glazing industry? "Just throw yourself in, don't be worried about the detail but do ask for help. The job is really technical so gather as much knowledge as possible and keep learning. You will learn something new every time you go out to see a customer! Also, choose a company where you will be supported and where you will be able to grow professionally. Tradeglaze is a great company with several awards to its name. We take a lot of pride in what we do."
In his free time James enjoys playing football and tennis. He is also an avid golf player and will be representing Tradeglaze at the upcoming Captains' Charity Day in Torksey on 16 June, helping to raise money for two outstanding charities, Mind and Heart Link.
Congratulations to James on earning the Employee of the Month! Well deserved, you are a hard-working colleague, always positive and always willing to step in and help others. We are certainly very lucky to have you as part of our team here at Tradeglaze.
James loves helping our trade customers so if you need assistance with your next project or simply have a question about the products we offer, why not pick up the phone and call him on 01522 539578! You can also visit our website www.tradeglaze.co.uk and submit your enquiry online.